Finite element model updating adalah sebuah proses yang dilakukan dalam model finite element yang akan digunakan untuk analisis, sehingga  menjadi model yang identik dengan produk aktual dengan cara mengubah parameter model finite element awal sehingga merefleksikan nilai hasil pengujian lapangan (pengujian statik , pengujian dinamik).  Finite element model updating adalah bagian dari verifikasi dan validasi model numerik.
Berikut menurut wikipedia:
Finite element model updating is the process of ensuring that finite element analysis results in models that better reflect the measured data than the initial models. It is part of verification and validation of numerical models. (https://en.wikipedia.org/wiki/Finite_element_updating)
Membuat Model Finite Element yang identik dengan struktur existing lapangan untuk damage detection, perhitungan kapasitas struktur, design optimization, SHMS, dan analisis lainnya dengan akurasi yang tinggi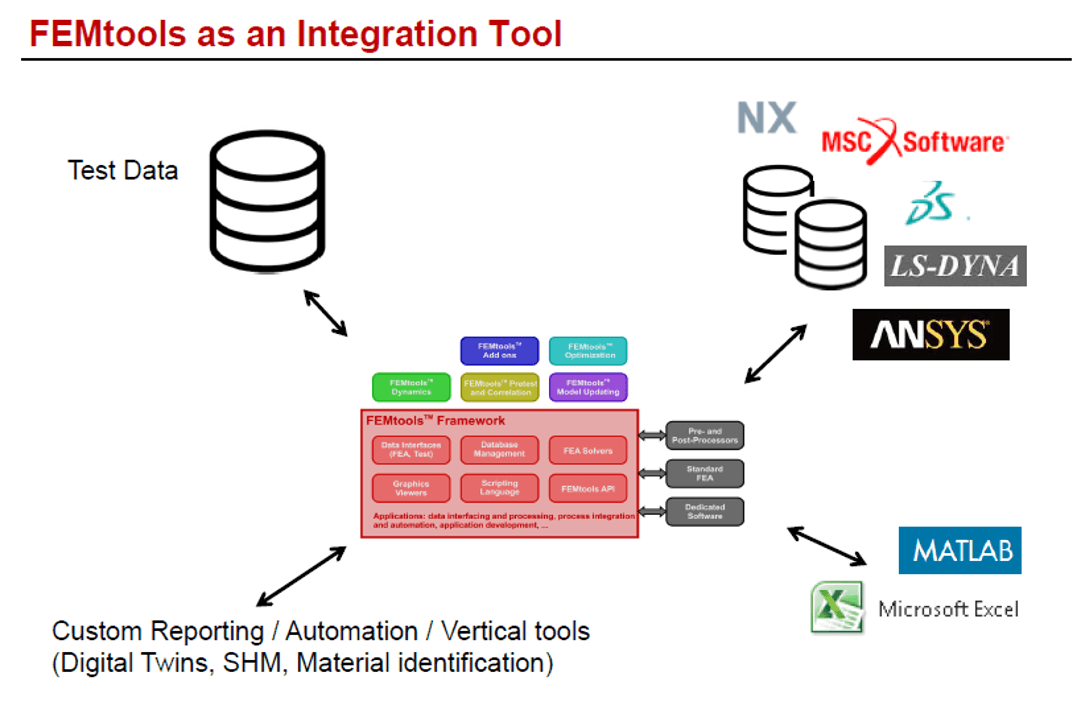 TESTINDO bekerjasama dengan PT Rekayasa Pratama Konsultan menyediakan konsultasi engineering, solusi dan lisensi software FEMtools.
FEMtools Model Updating adalah modul software FEMtools yang berfungsi sebagai penghubung model finite element -yang dibangun dengan software FE seperti Ansys, Abaqus, Nastran , SAP2000 – dengan data pengujian (modal testing maupun static load testing) untuk melakukan proses refine/validasi/update model finite element tersebut agar menjadi model FE baru yang sudah tervalidasi/terkalibrasi/terupdate sehingga identik dengan aktual produk/struktur di lapangan dan dapat digunakan untuk damage detection, perhitungan kapasitas struktur, design optimization, SHMS, dan analisis lanjutan lainnya dengan akurasi yang tinggi.
Cara penggunaannya seperti ini: 
Setelah model FE dibuat, aktifkan FEMtools Model Updating maka kita bisa melakukan PRETEST ANALYSIS untuk penentuan titik kritis (guidance penentuan titik /penempatan sensor untuk pengujian dynamic/static loading test).
ALUR PROSES FINITE ELEMENT MODEL UPDATING
Setelah kita melakukan pengujian pada titik-titik uji yang disarankan tersebut, maka data rekaman pengujiannya kita masukkan (scripting) ke FEMtools Model Updating . Lalu FEMtools Model Updating akan menjalankan prosedur sensitivity analysis, correlation analysis secara otomatis untuk mengubah model awal Finite element kita sesuai dengan data pengujian.  Hasilnya adalah berupa model baru yang lebih identik sesuai dengan perilaku struktur di lapangan. Model FE baru yang dihasilkan akan memiliki hal terkait geometry dan material yang lebih sesuai dengan hasil uji sehingga disebut sebagai digital twin (finite element model updating)
Indonesia sendiri sudah memiliki code yang memberikan panduan mengimplementasikan finite element model updating ini yaitu Panduan Teknis Evaluasi Strukturu Jembatan untuk Dispensasi Penggunaan Jalan yang memerlukan perlakuan khusus yang diterbitkan oleh Kementerian PUPR Dirjen Bina Marga.